Click here to return to So You're Having a Birthday Party!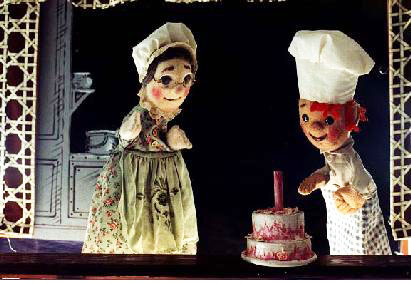 "Mrs. Wintergreen's Birthday Surprise"
Hand Puppets
This is our most popular birthday show. Mrs. Wintergreen asks the help of young Cook Toddy in preparing a special birthday cake. The problem is Toddy only became a cook because he loves to eat. He knows very little about baking. She leaves Toddy alone, and that's when the fun begins! Everyone has an opinion of what should be in the cake. Before long, the Cat has thrown in a mouse, the Dog a bone, and the Villain - tobacco. And when the Villain steals the cake and "really" regrets it later, Toddy has to ask the elves for help. Toddy learns a lesson about telling the truth and the birthday cake is a success! Suitable for all ages - a hit with the very young.
Click on the thumbnail to see the enlarged image at the left.
Click on Promo if you would like the original size of the image for promotional use.

How do I arrange a visit? It's easy! Just call:

The Puppet Company at (510) 569-3144
"Entertainment for all ages!"