Click here to return to So You're Having a Birthday Party!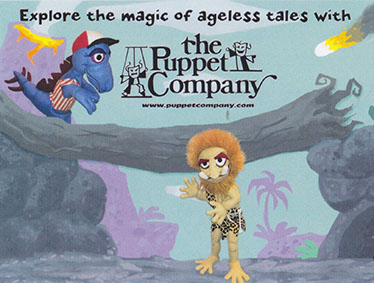 "The Three Dinosaurs Gruff"
Hand Puppets
Granny Brachiosaurus is telling her friend Grumpy Greta, a Pterodactyl, the tale of three dinosaur brothers. A Stegosaurus, a Triceratop, and a Ceratosaurus who all love to cross a tree bridge each day to nap, eat, and play on the other side. But what will happen when Ugh, a trollish caveman, moves in under the bridge? Our show teaches children the importance of working together, problem solving, and getting along. The pre-hysterical comedy pokes fun at the famous "3 Billy Goats Gruff" tale through the use of imagery, music, and songs. A family treat millions of years in the making!
Click on the thumbnail to see the enlarged image at the left.
Click on Promo if you would like the original size of the image for promotional use.

For ordering your own puppet creation, or for more information on scheduling a performance at your school or function, please call:

The Puppet Company at (510) 569-3144 (California)
"Entertainment for all ages!"